First Time Homebuyer Workshop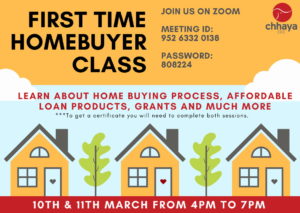 Interested in buying a home? Attend Chhaya's first-time homebuyer workshop. Learn more about the home-buying process, resources for down payment assistance, the mortgage process, and the importance of credit.
This is a FREE class and registration is not required.
Join us on Zoom on March 10th and 11th from 4pm to 7pm.
Meeting ID: 952 6332 0138
Password: 808224
Note: Both sessions need to be completed for the certificate to be rewarded.
Topics covered include:
*How to decide if owning a home is right for you
*Myths and truths about homeownership
*Understanding equity
*Resources for downpayment assistance
Click here to join the workshop.
Learn More